Sustainably supplied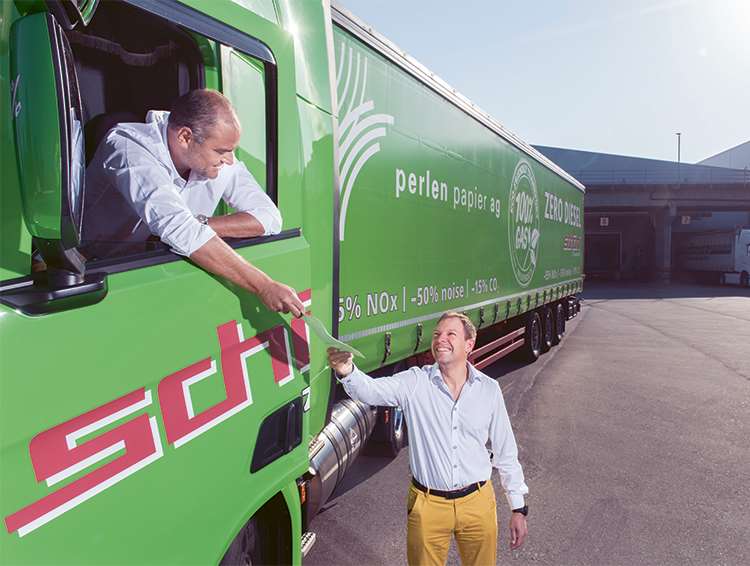 Photo: Daniel Schöni, owner and CEO of Schöni Transport AG (left), with Wolfgang Bucher, Perlen Papier's Head of Marketing & Sales.
Italy is the Paper Division's third-biggest sales market. Paper supplies to the country were maintained throughout its lockdown to tackle the COVID-19 crisis, thanks to the outstanding commitment of all the partners involved.
Keeping people informed is never more vital than in crisis times. So even when its economic life was paralyzed for weeks in spring 2020 as the country was hit especially hard by the spread of COVID-19, Italy's publishing houses needed to remain supplied with the newsprint they required. "Thanks to our forward-looking logistics, we ensured that publishers both in and outside Switzerland always had adequate stocks of publication paper throughout 2020, even during the coronavirus crisis," confirms Wolfgang Bucher, Perlen Papier's Head of Marketing & Sales.
The transporters of the deliveries to Italy faced particular challenges here. To protect the health of employees in high-risk groups, some of the usual vehicles could not be used. In addition, the Italian motorway network was bereft of its usual services facilities. In response, Daniel Schöni, the owner and CEO of Schöni Transport AG with its 400 employees, resolved on 6 April to assume driving duties himself, and trucked a load of some 24 tonnes of newsprint from Perlen to Rome.
Schöni Transport is a logistics partner that shares Perlen Papier's values on the sustainability front. "My personal goal is to become Switzerland's first carbon-neutral transport company," says Daniel Schöni. More than half of the Schöni Transport vehicle fleet already runs on biodiesel and liquid gas fuels.