Tackling COVID-19 together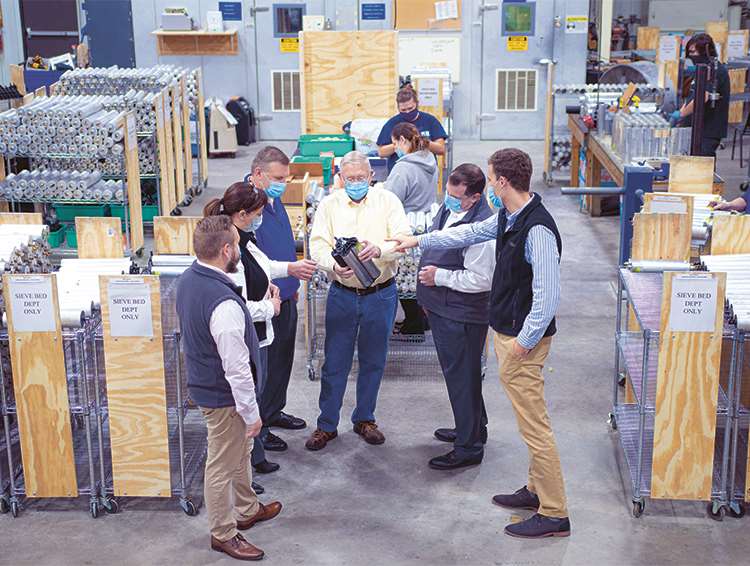 Photo: Southeast DME CEO Paul Lassanske (centre) in discussion with Zeochem employees (from left) Alex Hawkins, Sales Engineer; Teri Gonzalez, Customer Service Representative; Kerry Weston, Global Business Director Medical Oxygen; Douglas Huelsman, Sales Engineer; and Blake Corey, Technical Service Engineer.
Molecular sieves are employed in various medical applications in the fight against COVID-19. Zeochem is developing a number of solutions here in close collaboration with its customers.
One major medical application of molecular sieves is in oxygen concentrators, which use the high-performance products of Zeochem's ZEOX line. The sieves extract nitrogen from the ambient air, which raises the levels of oxygen in the air concerned and enables patients with respiratory illnesses to breathe more easily. Chronic respiratory conditions are becoming more and more common – partly through COVID-19, but also owing to air pollution and the general ageing of populations worldwide.
Southeast DME is one of the large US service centres which repair oxygen concentrators of various brands, replace their used molecular sieves and refurbish the devices for further medical use. The company has experienced a steep increase in demand for its services since the COVID-19 outbreak began. "The specialists at Zeochem support us with their molecular sieve expertise, their enhanced solutions and their short delivery times to help us meet our customers' growing needs," says Southeast DME's CEO Paul Lassanske.
Zeochem's molecular sieves are also used in medical packagings. Europe has seen the development of a new test that should accelerate the COVID-19 detection process. The tests are supplied in packagings that include Zeochem Type 4A molecular sieves. The sieves protect the tests' organic components from humidity and thereby improve the accuracy of their results.